2D Crystals
2D Crystal Engraving Gifts
There are so many occasions where the gift of a photo crystal will suit due to its uniqueness in holding memories and moments for a lifetime. Take a look at our 2D crystal engraving gifts by occasion below. All our crystal 2D crystal engraving gifts are made using the highest grade, optically perfect crystal. To begin creating your own unique gift simply upload your image, select the crystal size and add your message. We will take over form there and produce your stunning 2D photo crystal taking due care and attention that your photo deserves.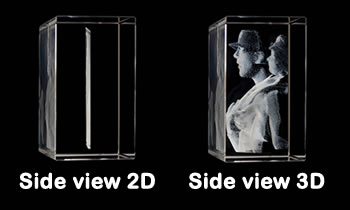 This shows the side view of the crystal and the effect the 3D conversion has over the standard 2D.
The effect when viewed from the front (the normal viewing angle) is the very realistic 3D experience of depth of the image which you cannot get from the original 2D photo.
The result is sheer 3D magic!
---