Keep the flame burning for the light of your life, with our Tea Light Candle Holder. The Tea Light Holder has a Rainbow Crystal AB foil base which adds a hint of various colours at certain angles of light, therefore does not require a light base. We can engrave any image of your choice into a high definition quality 3D image from a sharp photo.
You can have a Loved one, Child, baby, Partner, Mum & Dad, Aunt & Uncle, Pets... Dog, Cat, Horse etc.... Include a line of text free of charge.
Gift boxed and guaranteed. Holds a standard size Tea Light Candle
Engraving area is 60(h) x 50(w) x 50mm(d), the overall size is 80 x 50 x 50mm.
Difference between 2D and 3D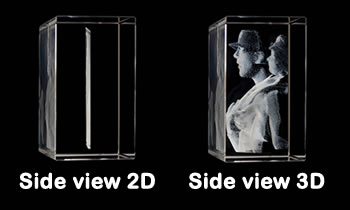 This shows the side view of the crystal and the effect the 3D conversion has over the standard 2D.
The effect when viewed from the front (the normal viewing angle) is the very realistic 3D experience of depth of the image which you cannot get from the original 2D photo.
3D Crystal Laser Tea Light Candle Holder
---
Customisation Options
Please select the correct number of people for your 3D Conversion, otherwise there may be a delay in your order. Thank you
Upload your *photo to be engraved here.

*A good quality image (high resolution) is required for best results
Image
Name
Upload is empty.
Tags: 3d tealight candle